Campaign News
Primary Elections
Thank you to the residents of the 31st Representative District who came out and voted in the Primary elections on September 9, 2014! Our work is just beginning, but with your continued support we can make a difference in Delaware together!
Election
Election will take place on November 4, 2014!
Representative Darryl Scott Endorses Sean Lynn in 31st District Primary
In March Rep. Darryl Scott announced he wouldn't be seeking reelection. In August he announced his endorsement of Sean to fill his vacancy. Read the article on WDEL.
Progressive Democrats of Delaware Endorses Sean Lynn as Progressive Candidate for the 31st District!
The Progressive Democrats of Delaware (PDD) endorses Sean. For a full list of their endorsements please visit the PDD Website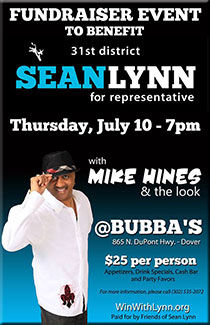 Fundraiser Party!
The next fundraiser which will benefit Friends of Sean Lynn, will take place on July 10th at 7 pm. The party will be hosted by Mike Hines be at Bubba's at 865 N. Dupont Hwy in Dover! Come see Mike Hines and the Look in concert!!!! $25/person
Fourth of July Parade
Please come visit Sean and the Committee at the July 4th Celebration on Legislative Mall in Dover. We will be walking in the American Legion Parade starting at 6 pm on July 4th. We will also have a booth set up on Legislative Mall to provide information about the Campaign. We are in spot #20.
If any volunteers want to walk in the Parade with us, please Contact Us. We will need to get Parade Walkers their t-shirts in advance of the Parade. If anyone is interested in manning the booth, please let us know. We need more volunteers!!
African American Festival
Sean and the campaign commitee will be at the festival on June 28, 2014!
Sean Lynn Campaign Kickoff!
Wednesday, May 28th, 2014 from 6-8pm at Fraizer's Waterfront. The kickoff was a great success!
I am so humbled and grateful to all of my friends, family and supporters for coming out to our campaign kickoff last night! We had a great time and had Fraizer's Waterfront packed!!
Sean
Sean Announces Decision to Run For General Assembly!
This article ran in the Dover Post just after Sean made the decision to run for 31st District Representative.
Donate Today!